The product was successfully added to the shopping cart
X
Often bought together

Sold more than 22 times a month!
This product is currently popular.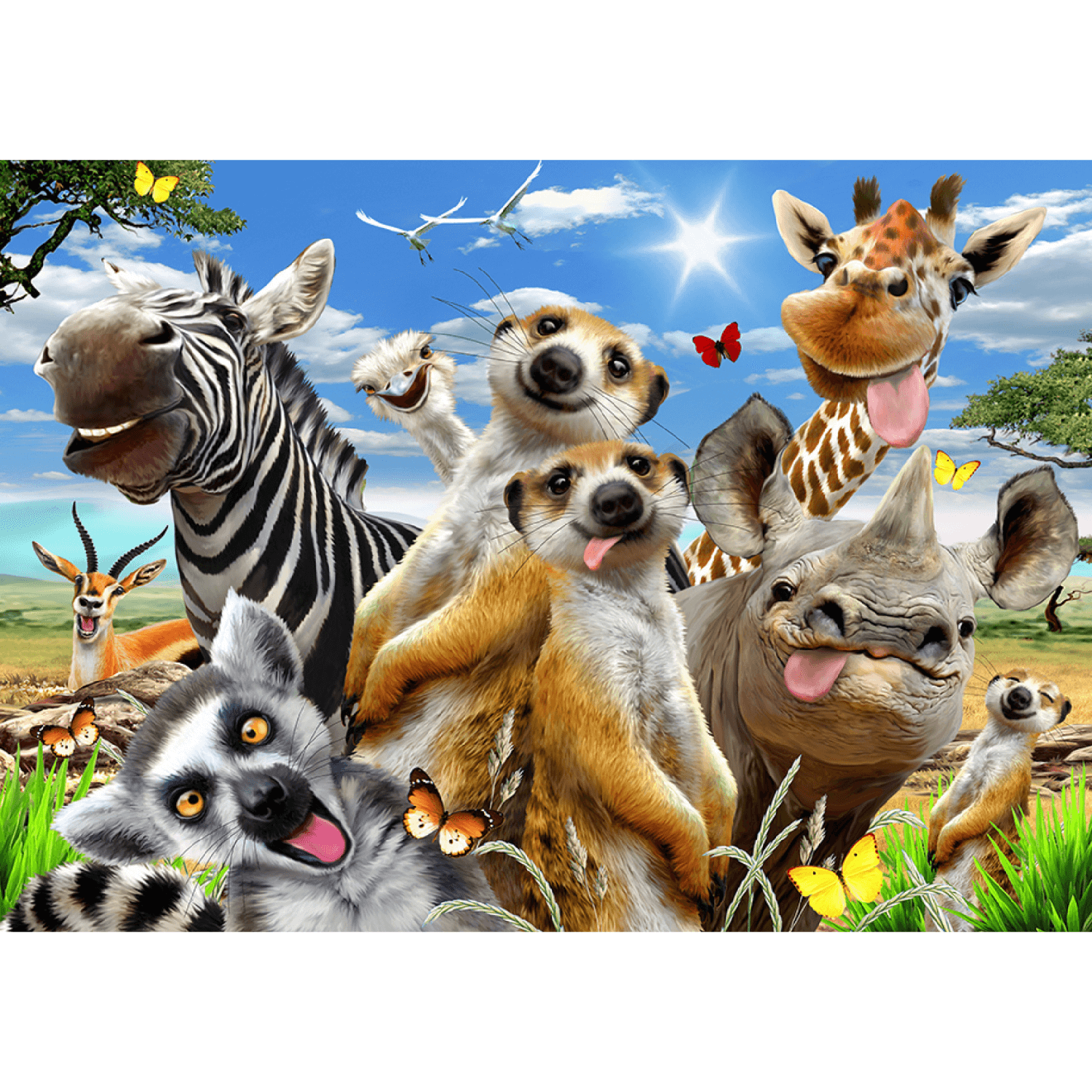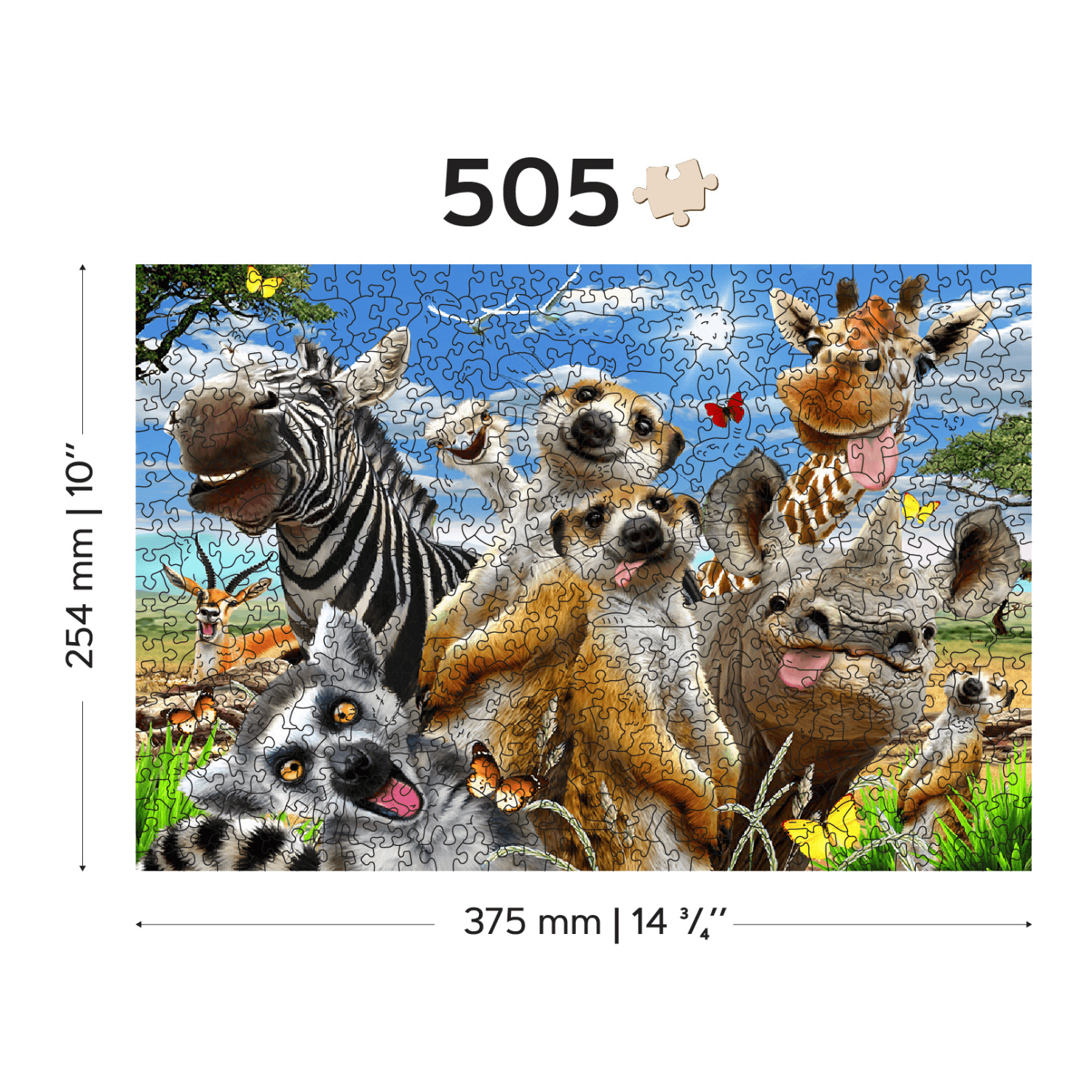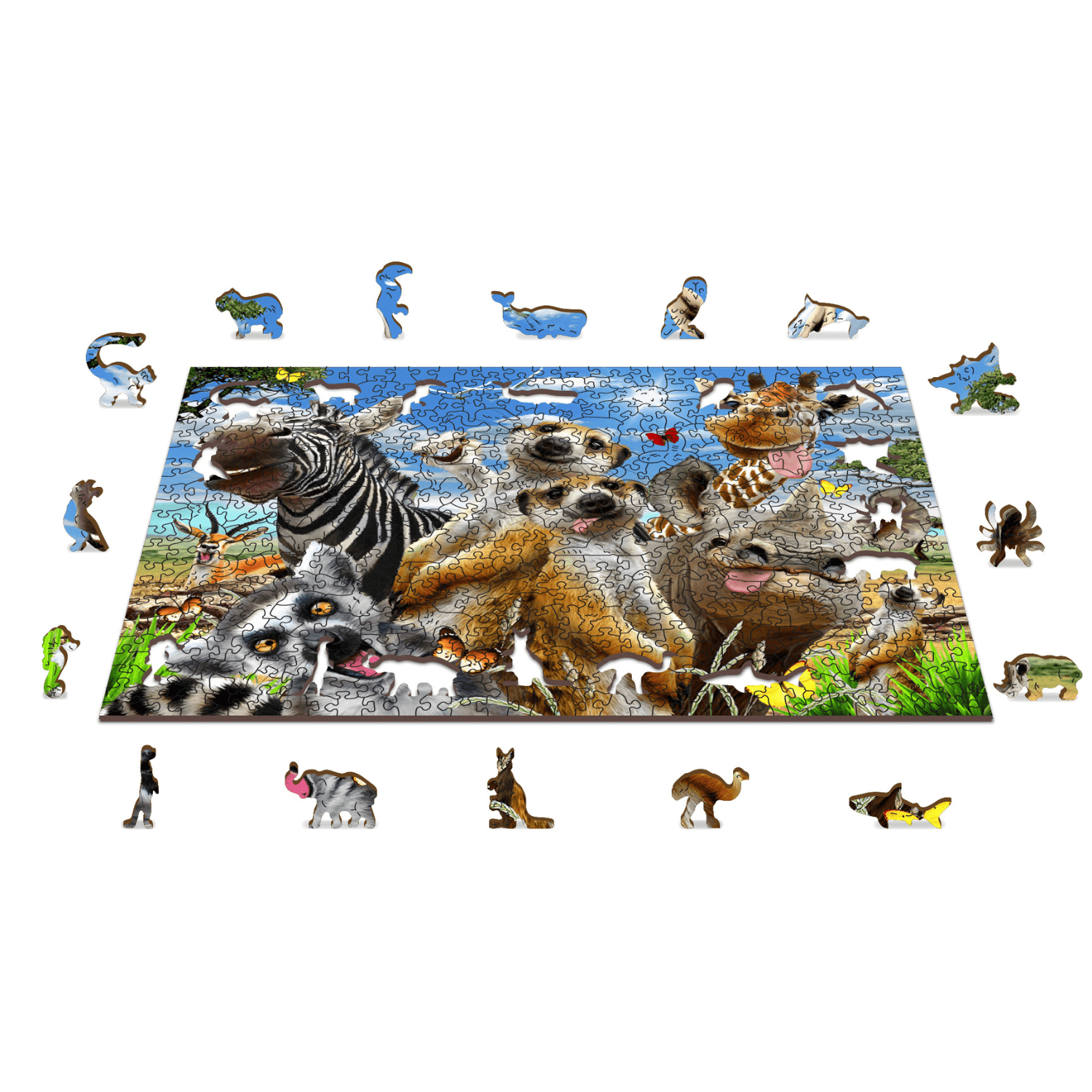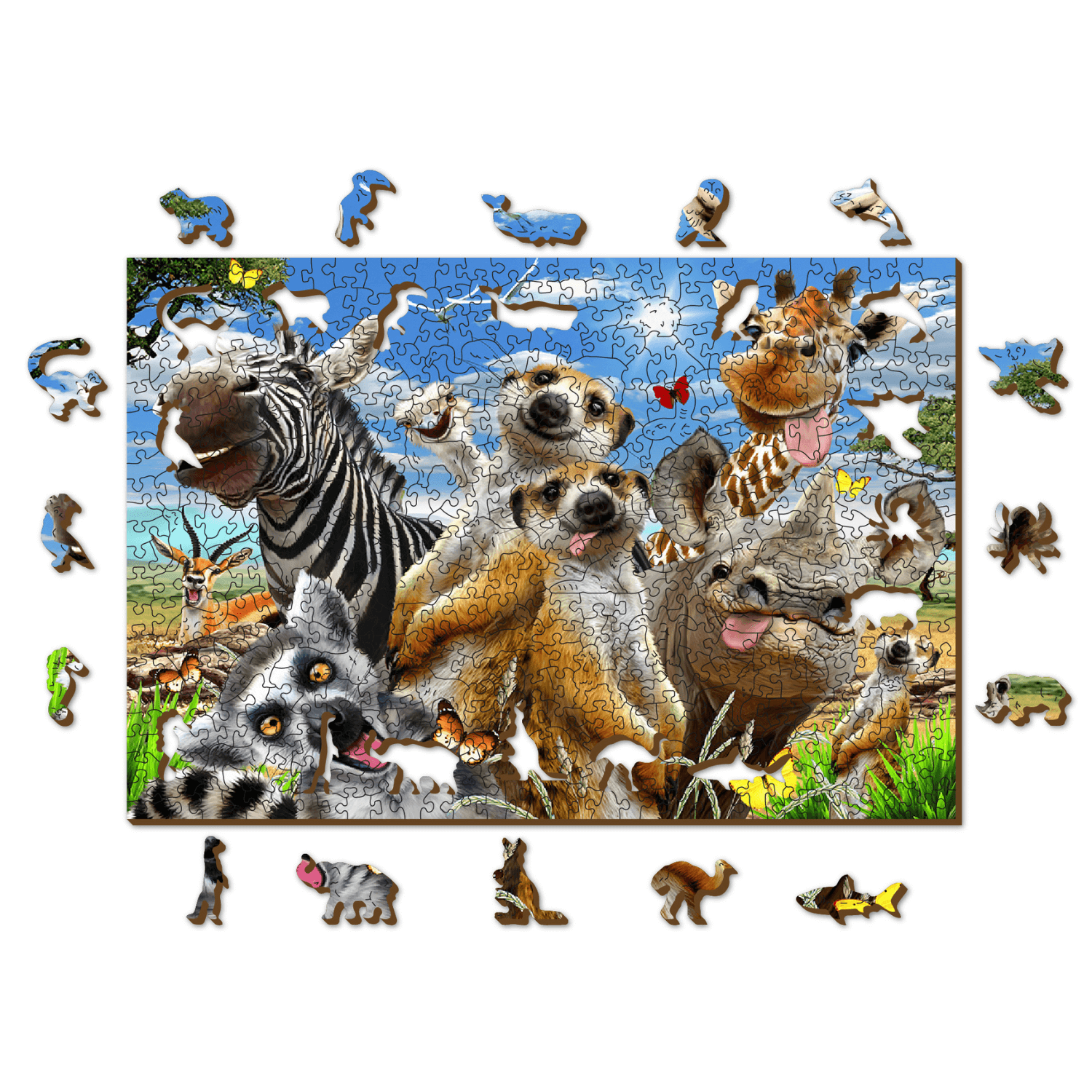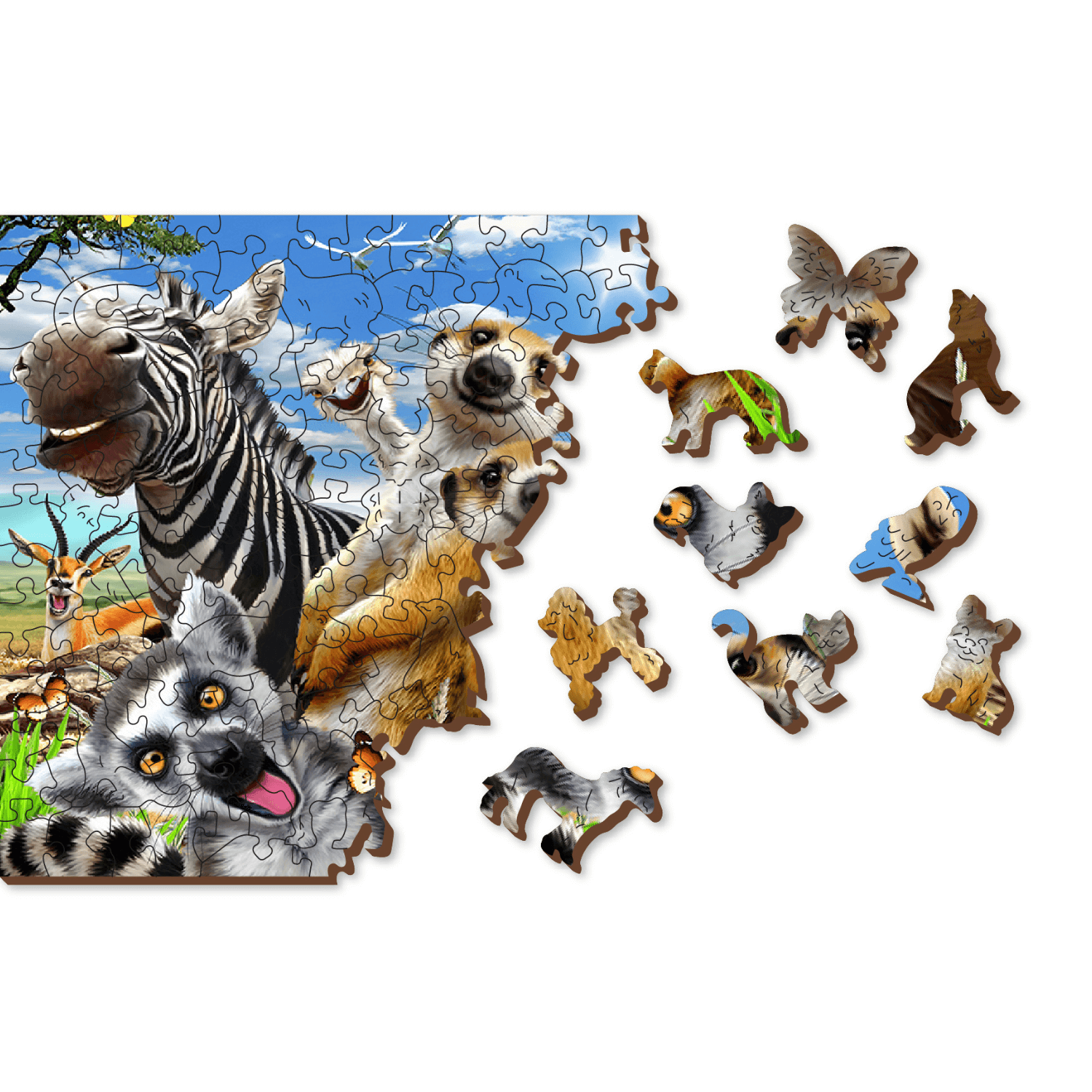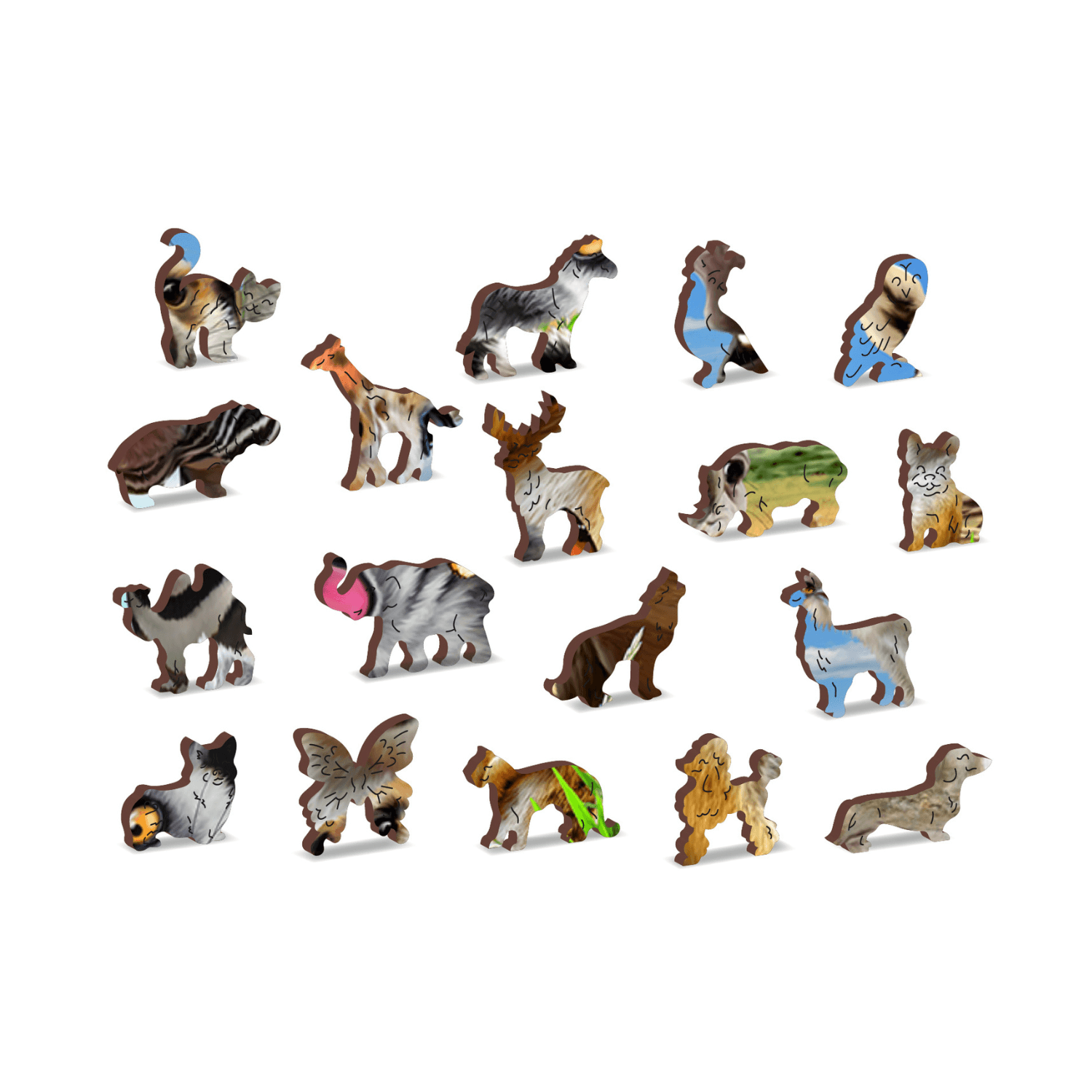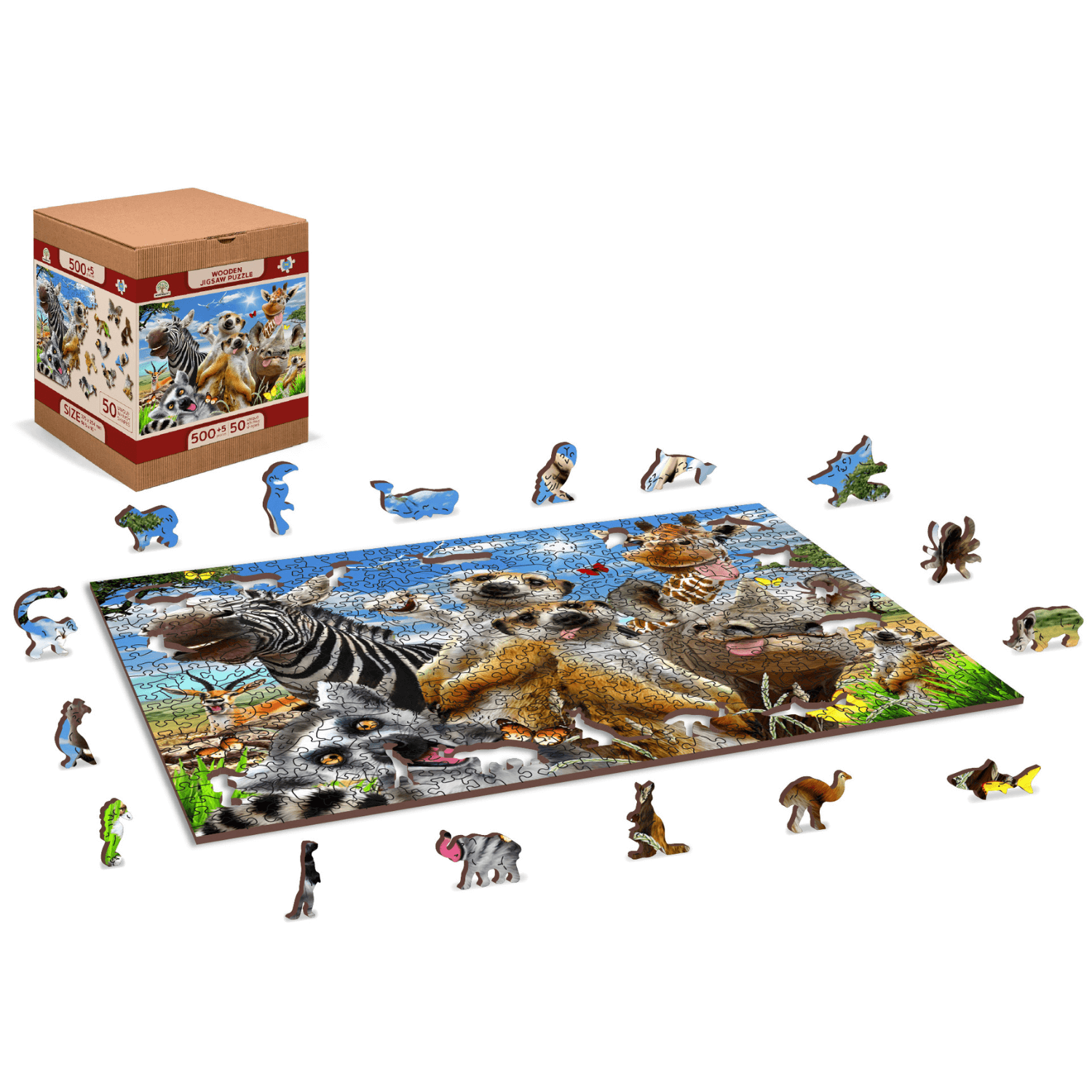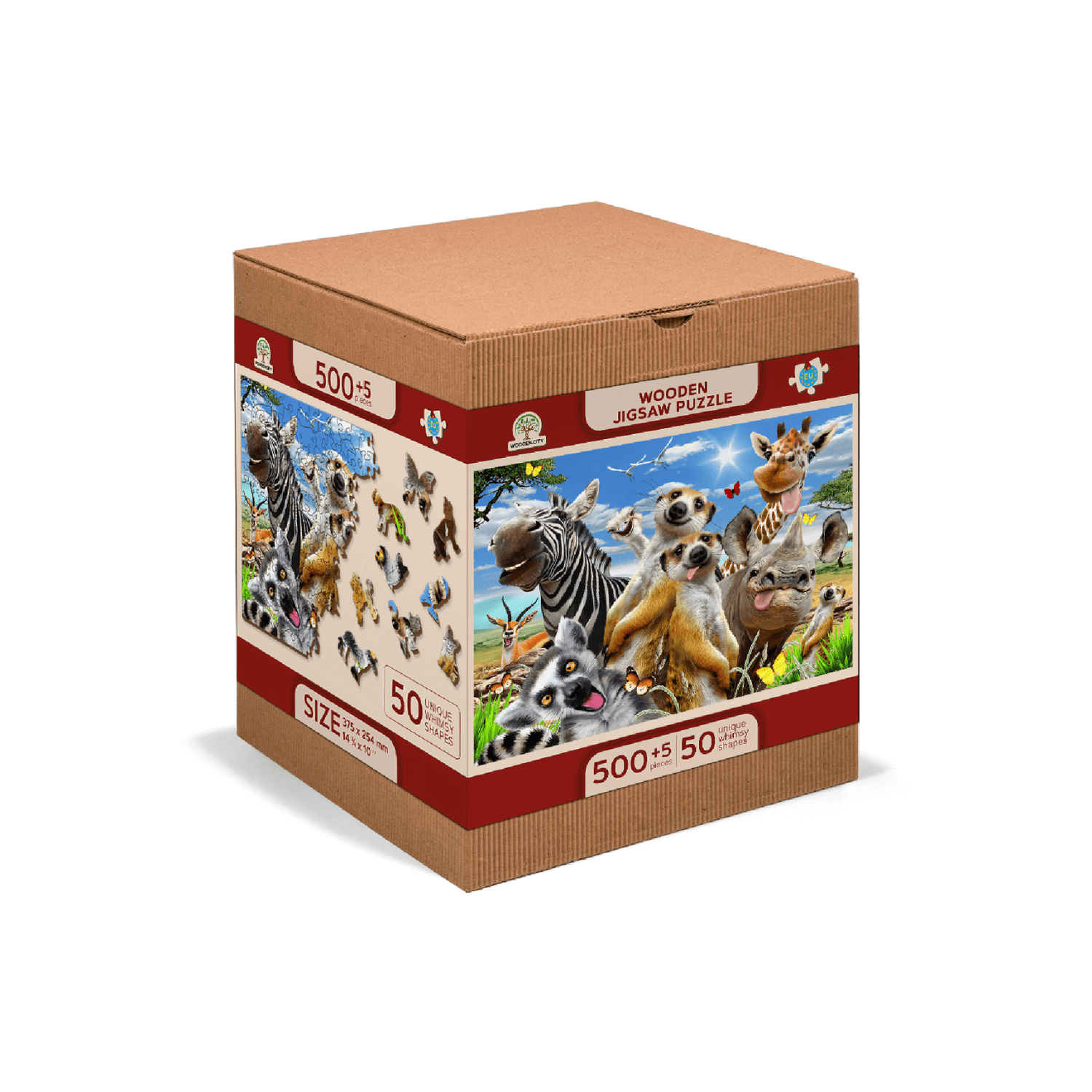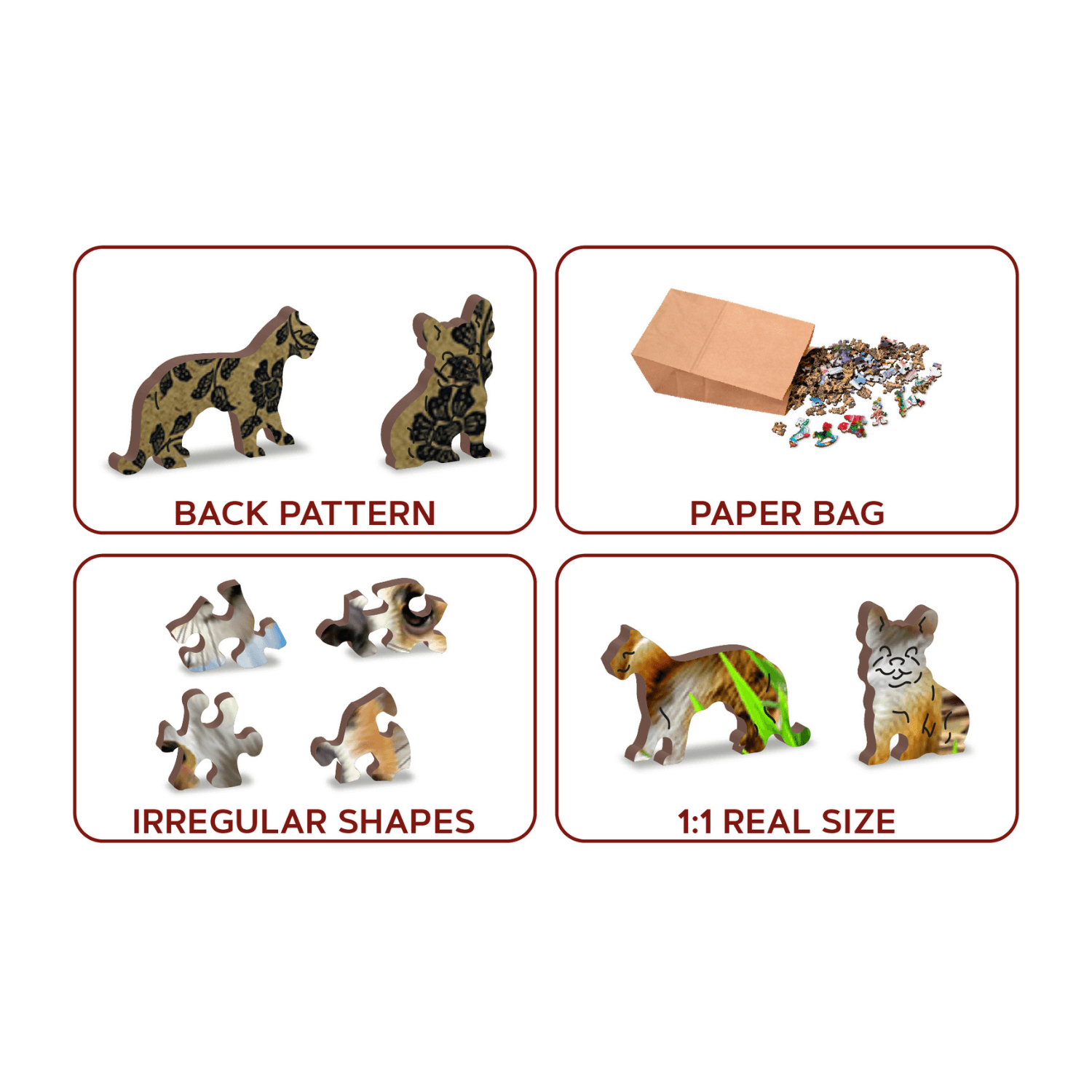 Welcome to Africa Puzzle | Wood Puzzle 505
🎁 The perfect gift
🧘 Escape the stress of everyday life
🧠 Improve your concentration
In stock: in 2-3 days with you
Convenient payment on account
✔ Unique parts with rich colors
✔ No tools & glue needed
✔ Free spare parts service
Assembled from five hundred and five wooden parts, fifty of which are in the form of animal figures, the result is a funny picture of grimacing African fauna.
Each 37.5 × 25.4 cm puzzle contains 505 puzzle pieces, including 50 special figures in the form of animals.

Extraordinary puzzle pieces

The back of the puzzle is printed with a pattern

The puzzle is packaged in low plastic and the

puzzle pieces themselves are packed in a paper bag 
certified colours: CE, EN-71, ASTM D-4236
A brown and white gazelle with dark horns can be seen in the left background. In the center of the picture, two meerkats are leaning against each other, with the one on the right happily letting its tongue hang out. To the left of them, an ostrich and a zebra laugh at the viewer. In front of them, a gray katta lemur with a striped tail holds its head at an angle into the picture. To the right of the meerkats, a rhinoceros and a giraffe stick out their tongues. Isolated yellow and red butterflies fly through the picture. Two white birds fly in the blue sky. In the lower right, another meerkat grins into the picture. A savannah can also be seen in the background.
Model size in cm: 38x25
Number of parts : 505
Difficulty level: Easy
Assembly time: 2-5 h
Recommended age : 12+
Material: Environmentally friendly plywood
The wooden panels have a reasonable thickness and are tested according to strict quality specifications. However, it may happen that a part breaks. More than needed are supplied for critical parts. If they are not enough, you can always contact us and we will take care of spare parts for you for free.
With one set you can hang up to 6 small (S), 3 medium (M) or 3 large (L) puzzles
Decorate your walls
Frequently asked questions
There is no invoice in the package. This will be sent exclusively to you by e-mail. Have fun with the gift!
For this we have our free spare parts service. You tell us which part of which model you need and we send you the part as soon as possible, so that nothing stands in the way of completion.
You can easily pay after 30 days. To do so, select the option "Klarna - Pay now or later" in the checkout. Of course, you pay only when you have received the goods. You shop relaxed, complete your order and look at the products in peace at home. If you want to pay in advance, contact our customer service.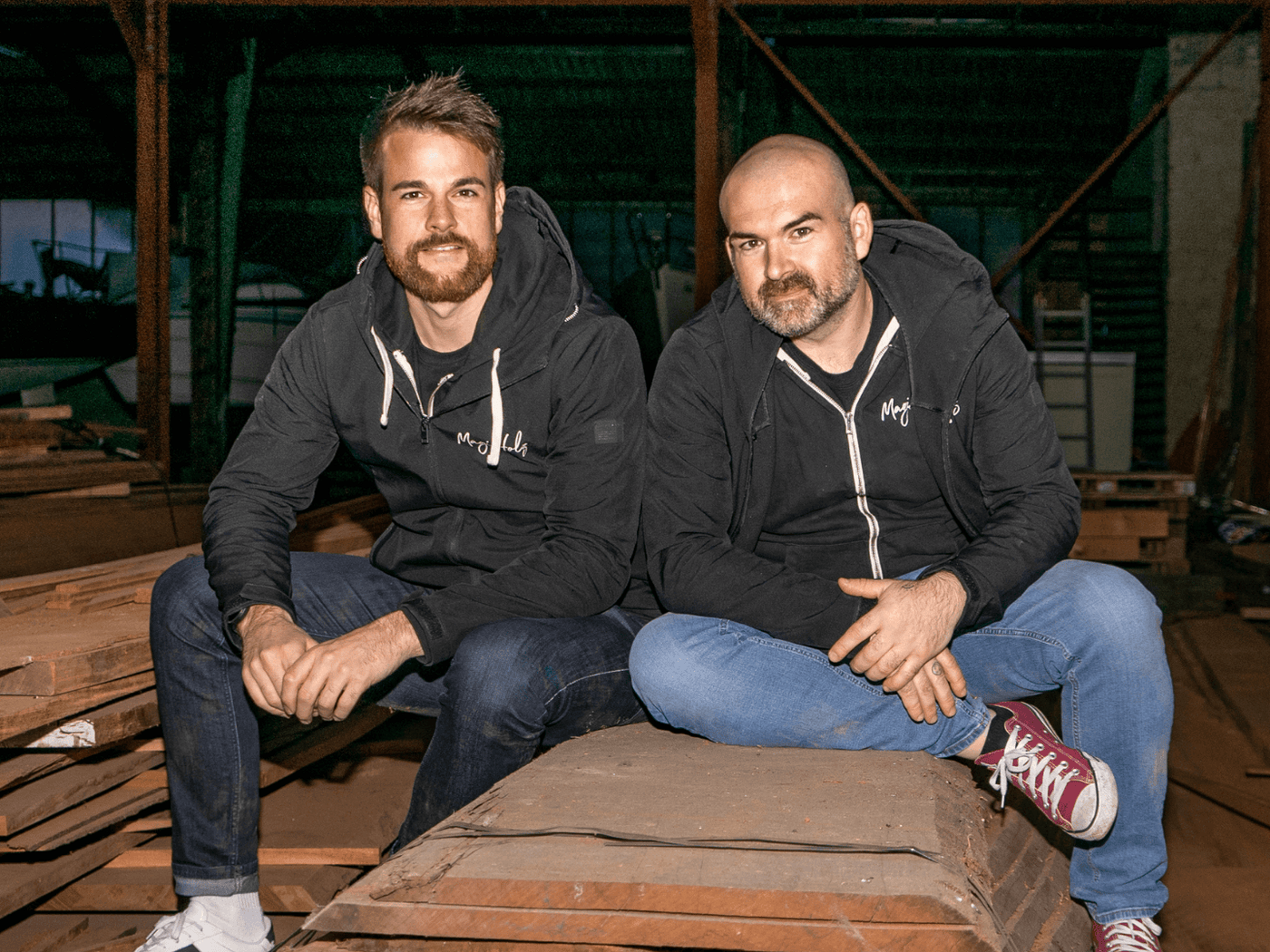 We give 100% for you
Support a young start-up
Would you also like to support a young start-up? Then you've come to the right place! We, Chris and Lars, are two crazy guys from Esslingen am Neckar and think that 3D wooden puzzles are a great leisure activity for young and old.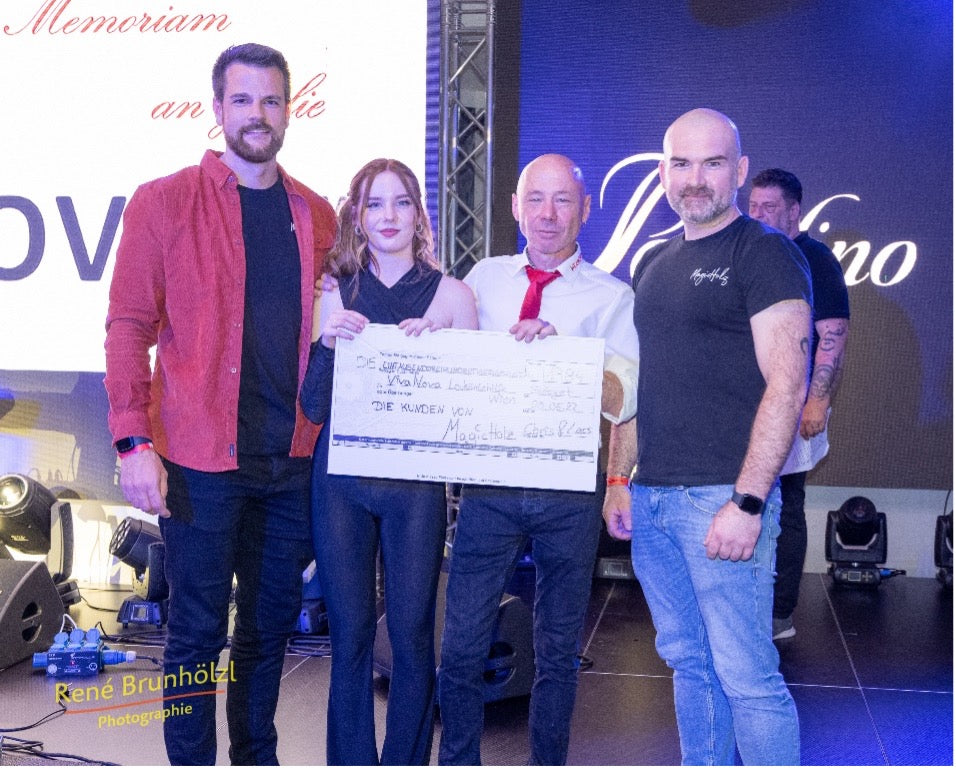 MagicHolz donates
Doing good together
You can support regional social institutions together with us. Because with every purchase, you participate directly in the donation that associations receive from us in the form of financial resources or kits. The current recipient of our donations is Vivanova Leukaemiahilfe in Vienna.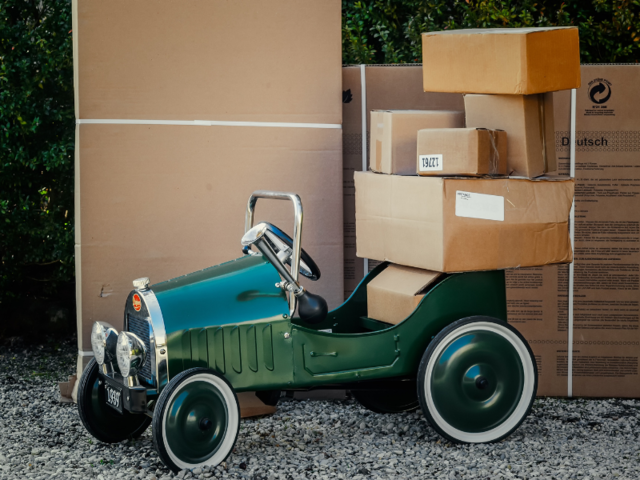 Immediate shipping
Lightning fast delivery
As soon as we receive your order, we sprint off and pack all the nice things you want. Orders placed before 12pm will be shipped the same day. If you are not sure, you can make use of our extended 100 day return policy.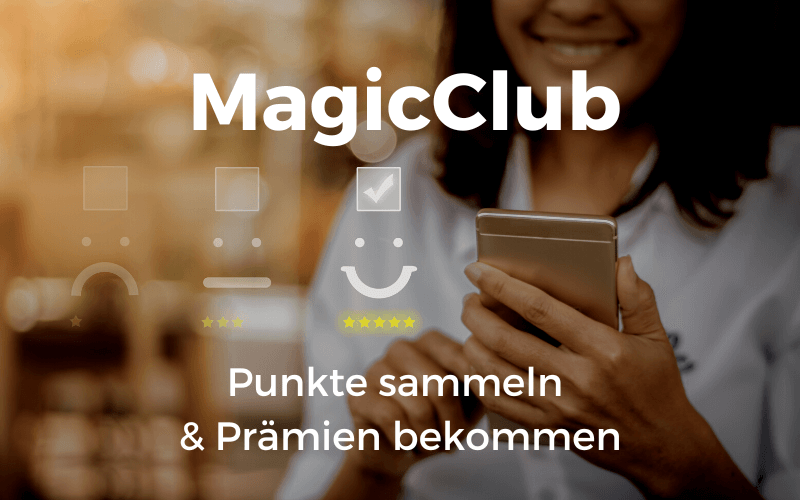 TRUST PROGRAM
Collect points and exchange them for attractive rewards
MagicClub is a free bonus programme with which you automatically collect points with every purchase. You can exchange your points for attractive rewards from as little as 350 points. As a MagicClub member, you can also enjoy numerous promotions and discounts.